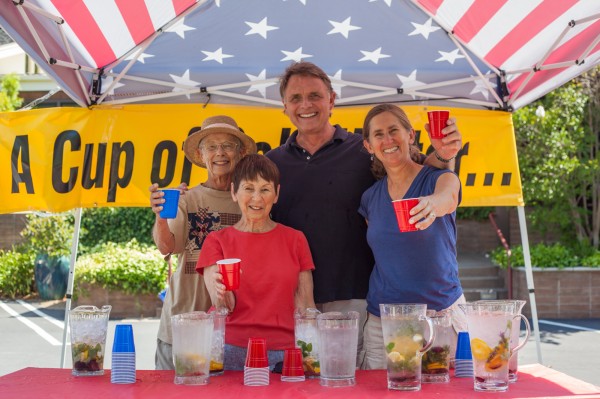 Members of First Church of Christ, Scientist, Orinda, had our table up again this year for our community's annual Fourth of July parade, giving out cold water to grateful parade-watchers.  We've done this for five years in a row now!
Here was our investment:
Willing, happy members to serve
Table
Pitchers of ice water
Cups
That is the heart of it.  With these simple items, we were able to actively share with our community a glimpse of who we are.  As a result of this simple kindness, there were some opportunities for a few conversations about what we believe and what we do, share a Sentinel or Monitor, invite to a Wednesday meeting.  Folks were also very grateful for the use of our restroom facilities.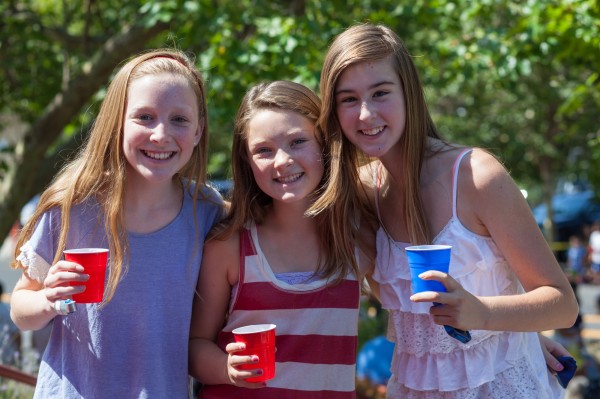 Christian basis:
"And whosoever shall give to drink unto one of these little ones a cup of cold water only in the name of a disciple, verily I say unto you, he shall in no wise lose his reward."
Matt 10:42
"Giving a cup of cold water in Christ's name, is a Christian service." … "Millions of unprejudiced minds — simple seekers for Truth, weary wanderers, athirst in the desert — are waiting and watching for rest and drink.  Give them a cup of cold water in Christ's name, and never fear the consequences… Those ready for the blessing you impart will give thanks."
From pages 436 and 570 of Science and Health, with Key to the Scriptures, by Mary Baker Eddy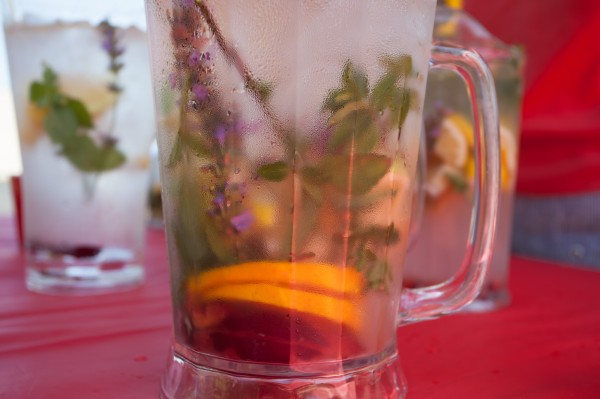 Here are a few more details, in case you may want to do something similar.
Set-up:
10' x10' Canopy
6-8' table
Tablecloth (plastic)
Banner (Ours says: "A Cup of Cold Water…")
"FREE WATER"  signs for the sidewalk
Sign identifying who we are, for the pouring table
Bungee cords for banner
Clear packing tape for signs
2 trash containers
Box or bag holding extra cups (put under the table)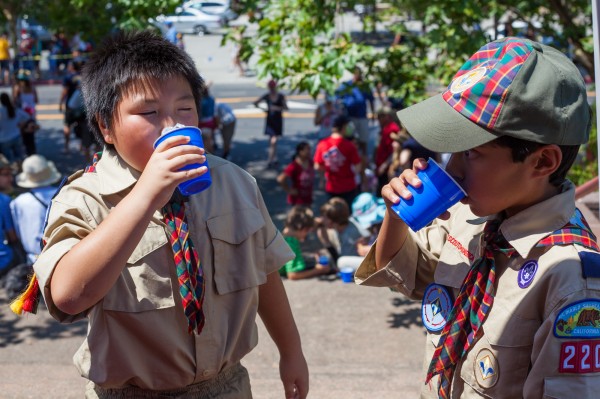 Preparation items:
Cutting board and knife for cutting fruit (Or have it already sliced, but not too small.)
100 lbs of crushed ice, in 10 lb or so bags apiece for easy handling (We used about 60 lbs this year.)
3-4 ice chests to store ice, one to hold emptied bags of ice, ready to scoop to fill pitchers
Ice scoop (or sturdy cup)
Hammer (optional, in case ice is frozen together.)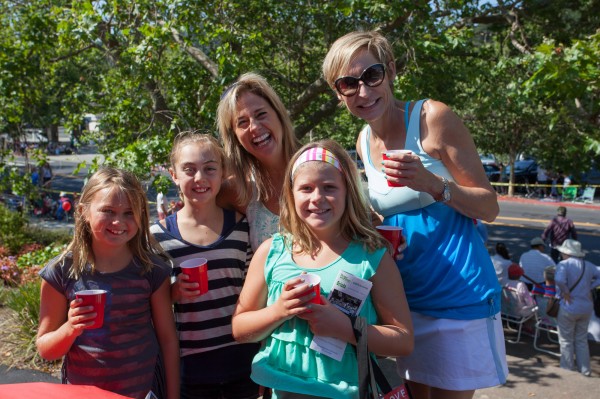 The pour:
A note here on this:  An important part of this thirst-quenching and satisfying offering is the actual handing of a cup, freshly poured, cold, beautiful, and delicious, into the waiting hands of someone who wants it.  This is not about folks grabbing small plastic water bottles, or self-service.  It is about a real connection, brief but loving.  So all those qualities are important: cold, beautiful, delicious, served with a smile.
Cups (260 or so served this year; – recyclable, and we also filled many people's water bottles.)
6-9 clear pitchers (Rented for $2 apiece from our local party rental place.)
Inside each pitcher:

Several slices of orange
Several slices of lemon
Couple sprigs of mint
Couple sprigs of lavender
Couple of strawberries, cut in half, or other red fruit
Ice above fruit, filled to top
Water over all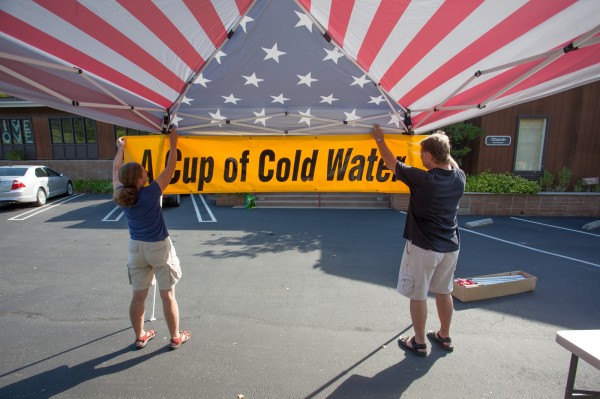 People needed:
3-4 to set up and put away
3-4 servers
1-2 refillers, people who are ready to refill pitchers with ice and water, in a convenient and clean place, preferably not immediately at the serving table, but not far away.  That place will have a water source and place to scoop ice into pitchers.  When we first began this, we used our flower-room area, since it had a deep sink.  We have since moved into our Sunday School foyer, which has a hospitality center, including a sink.
1 person taking pictures
We had about 6 people that did these jobs, trading off, and several more that contributed by bringing ice chests, lemons, or other helpful tasks.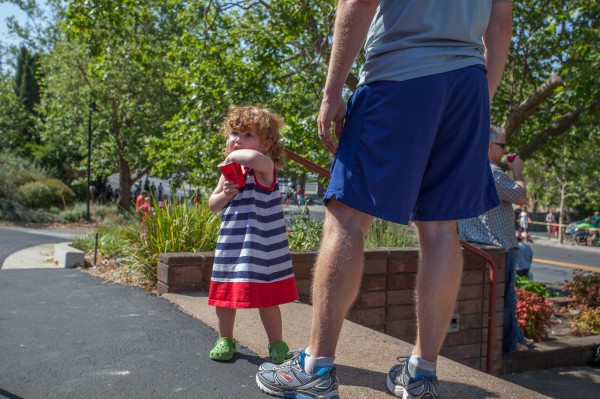 For children:
This can be a helpful table for little ones before the parade starts, primarily.
Short children's coloring table
Short chairs
Appropriately-themed freedom drawing papers
Paper weights if windy (smooth rocks or books)
Felt pens or crayons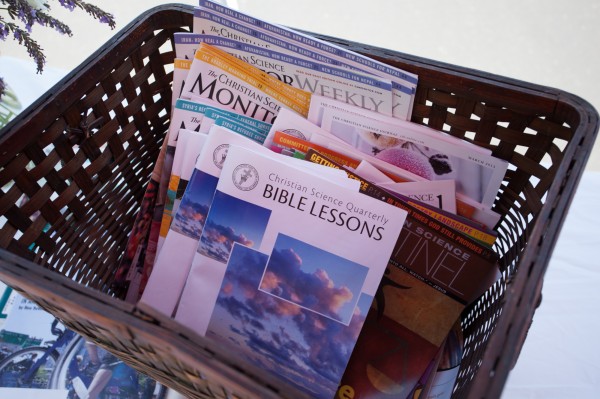 Additional "Cold water":
2nd canopy
2nd table
2nd table cloth
Sign introducing ourselves as a community of healers, with welcome to services info
Red, white, and blue flowers in vase
Free Christian Science Monitors
Free Christian Science Sentinels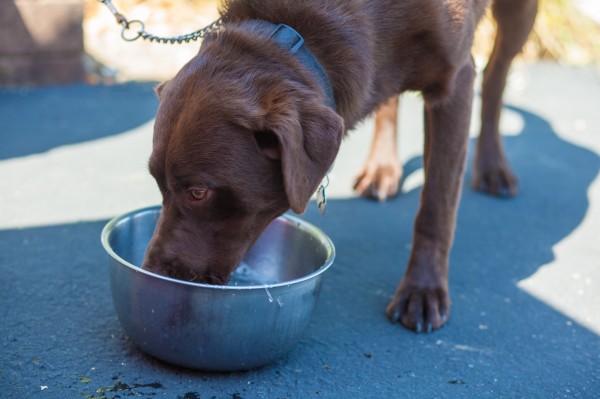 Other niceties:
Dog water bowl
Use of restroom facilities—greatly appreciated!—Make sure they are clean, well-stocked, and inviting, if offering this amenity.
We were very happy to share over 260 cups of cold water this year!